It would be a mistake to assume that offering free shipping is just a marketing trick that has no effect on conversions. Did you know that additional expenses such as shipping costs account for over half of all abandoned shopping carts? If a customer adds an item to their shopping cart and then discovers unexpectedly large shipping fees when they go to check out, you stand a good chance of losing that customer for good.
Let's dive into the stats behind shoppers' logic and explore how free shipping can benefit your business. 
In this article, we will cover:
How important free shipping is to customers

What is a free shipping bar

The benefits of a free shipping bar for businesses

The best Shopify free shipping bars
Customers vs. Free Shipping
As simple as it may look and sound, free shipping is one of the primary selling points for the majority of people who shop online. According to Baymard research, as much as 48% of shoppers abandon their carts due to high shipping and other extra costs.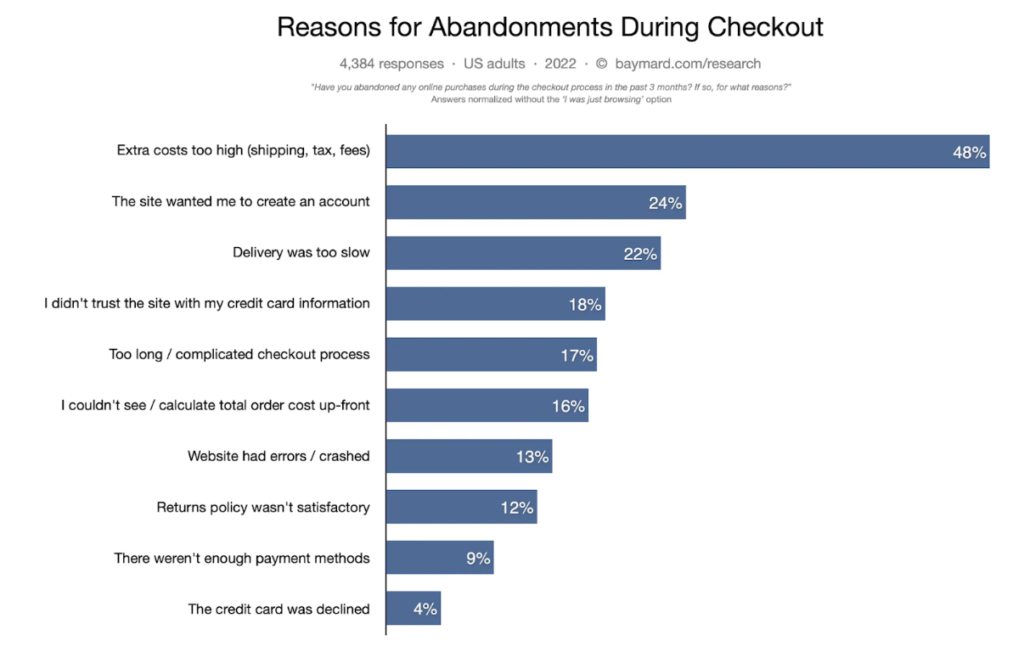 According to another study, 66% of people who shop online expect free shipping on every order, and 33% will only buy from companies that provide such a service. In addition to that, 20% of customers are ready to go to a different online shop only to take advantage of the free shipping offer.
So, following that, free shipping has become a popular practice among online merchants who want to attract and maintain customers. In order to increase sales and decrease bounce rates, they turned to free shipping bars.
What is a free shipping bar?
A free shipping bar is a banner on an online shop page used to promote free shipping offers. When browsing through a store, customers are immediately made aware of the free shipping offer or/and the minimum amount they need to spend to qualify for it. This acts as a subtle push to encourage them to spend more money.
When making or customizing a free shipping bar, there are many things to think about.
You could advertise:
A special free shipping offer

Free shipping for a limited time only

Free shipping for purchases over a certain threshold
It is up to you how your free shipping offer will be presented. You can even try testing a few options to determine which one works best for you and your customers and stick to it in the future.
How can Free Shipping Bars benefit your business
1. A free shipping bar boosts the AOV (average order value), sales, and conversion rate.
Providing customers with free shipping encourages them to make additional purchases. That's a fact. When the free shipping offer requires a certain minimum amount spent, customers are more than likely to spend more to reach that threshold. The psychology behind it is simple – the vast majority of consumers want complimentary things.
Shoppers value the availability of free shipping more than any other advantage of shopping online. When you think about it, it isn't as shocking as it seems at first glance. People are constantly looking for ways to save money. And even if spending more to qualify for free shipping isn't always about saving, to customers it still is much more attractive than covering shipping costs. So they will look for additional things to buy in order to increase the likelihood that they will be eligible for free shipping rather than actually pay for shipping.
2. A free shipping bar reduces cart abandonment
Free shipping bars help minimize the problem of customers abandoning their shopping carts when faced with unexpectedly high shipping costs. People frequently make the decision not to buy something they want because they haven't accounted for the additional cost of shipping. But if customers know up front how much shipping will cost, they take that information into account when deciding whether or not to buy.
Even if a customer doesn't spend enough to get free shipping, the Free Shipping Bar will have done its job by taking away the element of surprise that comes with paying shipping fees.
3. A free shipping bar is good for increasing customer loyalty
When customers successfully finish an order at your store and get that free shipping that was advertised, they are more likely to come back to you the next time they are shopping, as they already know that they will get free shipping. Additionally, they are more likely to recommend your store to their friends or family. Word-of-mouth can work wonders.
4. A free shipping bar helps you stand out from the competitors
It is essential for shops to provide free shipping in today's market because the competition is extremely high. Your business has the potential to stand out from the competitors and attract a greater number of customers by simply providing free shipping, a benefit that is highly valued by consumers.
What are the best free shipping bars for Shopify?
As the demand for free shipping is growing, the number of free shipping bars available on the market is going up, too. How can you save time and money by getting the right free shipping bar for your Shopify store? Now that we have talked excessively about the importance of a free shipping bar for your business, let's take a look at our top 3 Shopify free shipping bars available right now.
With this amazingly easy-to-use and totally configurable free shipping bar, you can encourage customers to buy more by offering an unlimited number of free shipping and cart goal progress bars. 
How you want to design your free shipping bar is completely up to you – you may either make your own bar from scratch to fit your brand's aesthetic, or you can use a premade template.
Geotargeting, existing free shipping bar duplicate – you name a feature, and the Essential Free Shipping Bar has it. And if it doesn't, the team is incredible at listening to their clients and making sure that they offer the best solution to satisfy their clients' needs. Oh, and their customer support is quick and brilliant at helping you out, too! 
Advantages:
Unlimited number of free shipping bars

Full customization 

Easy integration of the free shipping bar into the store

Geolocation targeting and Duplicate functionality
Pricing: Free
Shopify rating: 5.0 (41 reviews)
This free shipping bar displays an animated banner to the consumer every time an item is added to the shopping cart, informing them of the precise amount of money they need to spend in order to qualify for free shipping. 
It comes with a few different templates. However, you can always get creative and modify it to suit your needs. Change the layout, appearance, typefaces, and text sizes as you think will best fit your store theme.
Quick installation, friendly customer support, and no coding required are a given. 
Advantages:
Customize and place the bar anywhere in your store

Geotargeting and shipping zone synchronisation

Product targeting – display the free shipping bar for specific products or collections
Pricing: Free basic plan / $5-25 per month for premium plans
Shopify rating: 4.8 (145 reviews)
Using this free shipping bar, you'll be able to design a progress bar that perfectly complements the aesthetic of your website. You may adjust the bar's borders, choose the placement of the bar, set the background color, or add custom buttons with distinctive designs and animations.
Fill the bar with personalized messages and cart goals to reach to get a free shipping offer, and you are ready to go.
Advantages:
Fully customizable

Free shipping bar display at specific pages only

Geolocation targeting

Desktop and mobile friendly
Pricing: Free 
Shopify rating: 4.7 (41 reviews)
Last but in no way least – think of the message you are going to put in your free shipping bar. Always keep in mind that the simplest and clearest solution is the best. For example, instead of saying "free shipping for orders over $50", try saying something along the lines of "Only $5 left to qualify for free shipping". 
Make the offer as simple and easy to understand as you possibly can. You don't want your customers to use their calculators every time they want to find out the cost of shipping.